The "I Dare You" Party Game – What is it? This is a lot of fun and an easy multi-player game that will crack you up, ideal for livening up any small or large groups & gatherings, anytime, anywhere. You just need a Printer.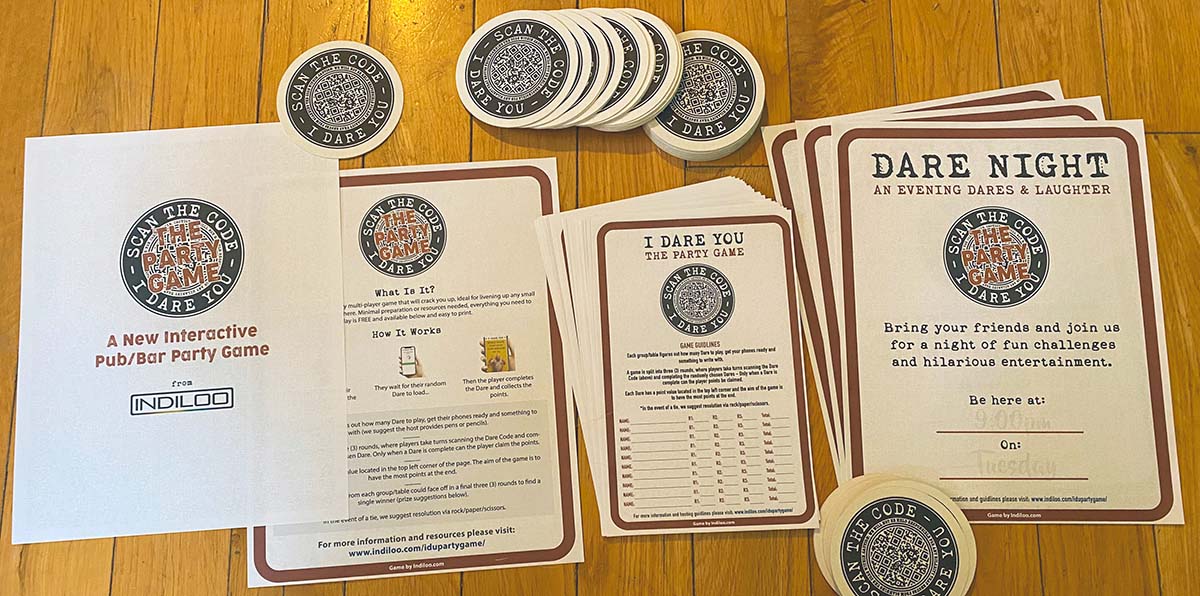 Minimal preparation or resources needed, everything you need to play is FREE and available to download & print below.
How the Player Sheets Work
A player will use their mobile device to scan the IDU (I Dare You) QR-Code on their Player Sheet.
The Dare Randomizer will then choose a Dare challenge for the Player, it only takes a second or two.
Once the Dare has been completed, the points can be collected by the player and added to their Score Card.
Each group/table figures out how many Dare to play, get their phones ready and something to write with (we suggest the host provides pens or pencils).
……..
A game is split into three (3) rounds, where players take turns scanning the Dare Code and complete the randomly chosen Dare. Only when a Dare is complete can the player claim the points.
……..
Each Dare has a point value located in the top left corner of the page. The aim of the game is to have the most points at the end.
……..
If needed, the winners from each group/table could face off in a final three (3) rounds to find a single winner (prize suggestions below).
*In the event of a tie, we suggest resolution via rock/paper/scissors.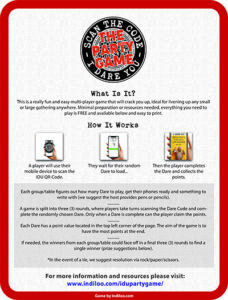 Player Sheets
You will need to download, print out and circulate Player Sheets to each table. These Player Sheets contain the IDU QR-Code, Player Guidelines and a Score Card for up to ten (10) Players per group.
Advertising Posters
If you want to advertise an "I Dare You Party Game Night" at your establishment we have drafted a couple of posters in 8.5×11″ or 11×17″ format or your use.
The posters below can be easily downloaded and printed.
You could take the Winners address and order them something from the "I Dare You" collection by Indiloo.
I Dare You Logo Source Files
Should you need to use our "I Dare You" scalable QR-Code logo, we have provided the source files below in PNG format. With these logos you can create you own "I Dare You" game apparel and promotional material.
We at Indiloo hope you have some fun with this game, that's what it's all about. Thank you!
#idareyou #pubgames #trivianight #indiloo #idareu #quiznight #gaming #idupartygame